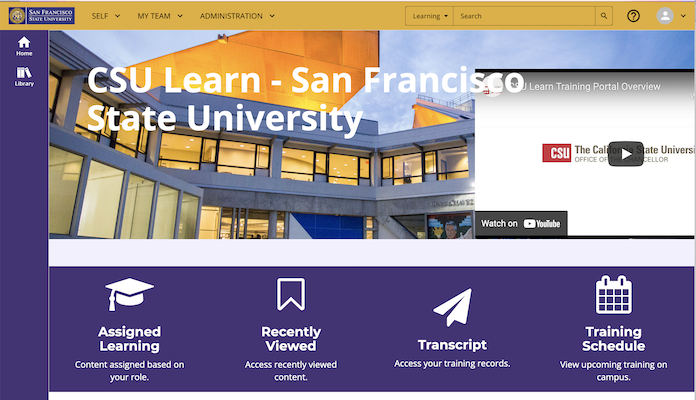 What is CSU Learn?
CSU Learn is a learning management system (LMS) provided by SumTotal/Skillsoft and adopted by the California State University. CSU Learn allows each campus to assign and track mandatory compliance training for employees.
The user resources below will assist you with learning more about using CSU Learn for EH&S training. If you have any questions, please don't hesitate to contact us at sfehs@sfsu.edu. We're here to help.
For more information about EHS Training and compliance requirements, check out the EHS Training web page.
1.  Use Google Chrome or Firefox browser.
Internet Explorer is no longer supported and won't work. Safari will work but change browsers if you experience issues, as CSU Learn is not optimized for Safari.
2.  Disable Pop-up or Ad Blockers.
Pop-up or Ad blockers can result in the course not launching properly which will cause CSU Learn to not recognize that you've completed a training.
3.  Be sure to keep the progress tracking window open while you complete the training.
When you launch a training in CSU Learn, two windows will open: a window with the actual training and a progress tracking window. You MUST keep the progress tracking window open during the entire time you're taking the learning activity or the system will not record that you've completed it.